When Everybody Needs to Do Everything and Nothing, All at Once
Stay safe!
Hi,
Welcome to Roll Call, a newsletter about the state of policy and technology in public safety, and the people shaping it. If you'd like to sign up, you can do so here. Or just read on…
---
I'll cop to it, I am approaching my confusion limit. I have friends who have been laid off, I have friends who are well-positioned and are thriving. I'm lucky to be closer to the latter, although life feels volatile to a degree I've only been told about (9/11) but never felt. It's all the more eerie because of how perfect the weather in Phoenix has been the last few weeks. Never been outside for longer stretches of the day, yet there's an uncanny feeling when you pass others in the park or in the neighborhood.
Because of COVID-19 and how quickly circumstances are shifting, it didn't feel right to send anything last week - especially if it wouldn't have been immediately helpful. That's obviously in tension with my charter, which is to inform you about important trends and invisible currents in public safety technology and policy. It's been long enough for some ideas to crystallize, however. From a public safety standpoint, the most interesting question to think about right now is what measures are being taken today that will permanently change the work of first responders? After the virus is either gone or normalized, what emergency response measures become the new norm? This is a once-or-twice-in-a-lifetime event, and it will be fascinating to see how cities and agencies respond.
Things I'm Paying Attention To:
Personal protective equipment (PPE) is a big deal, and could signal a massive long-term movement towards first responders becoming primarily an advanced medical corps. COVID-19 pushes the modern first responder to be the public health worker of the future. Two moving parts to understand here: the protective equipment itself, and medical training. In the current environment, having the first is a prerequisite before answering a call for service. First responders are beefing up their gear requirements for calls that may not be obviously medical in nature to prevent virus transmission.
I could be over-indexing on surface-level appearances and recency, but the optics of the above could clear a path for the public safety sector to invest more in the training and skills side of the equation. If they need the gear, why not give them the training to match? Thinking further outside the box, a Police Chief (with tacit City Manager approval) could poach from the nursing profession to fill recruiting and skills gaps. Firefighting and EMT cross-training is already very common - it would not be outrageous for similar basic health training to be required within law enforcement. There are departments of public safety today, mostly in smaller jurisdictions, that train across EMS, Fire, and LE. The model was more popular in the 1970s and 1980s, but could make a comeback in major cities due to experiences in 2020. Similar to how we have a standing Army ready to protect the nation from military threats - even when none are present - we could have a first responder corp that is prepared and skilled for massive public health crises. Finally, one consequence to watch will be the next wave of government-union negotiations. I expect union leaders to push for an increase in pay/protection as the personal risk for responders increases, which would cause municipal negotiators to ask for an increase in public health responsibilities.
The second long-term trend that's becoming clear is the public health vulnerability of jails. In response to the threat of COVID-19 sweeping through clusters of incarcerated people, sheriffs and judges are taking unprecedented steps to release non-violent offenders without the red tape usually required (bond, court hearings, etc.).
WOW, Chief Justice in Montana just issued this incredible directive asking judges to review their jail rosters and release, without bond, as many people as possible:
courts.mt.gov/Portals/189/vi…
. This is HUGE. It followed this letter we sent:
aclumontana.org/en/news/aclu-m…
For a look at the debate between the traditional "crime doesn't stop, so we won't either" approach of some Police Chiefs, and the "desperate times call for desperate measures" approach of some Sheriffs, I give you the unfolding exchange between two extremely well-respected law enforcement leaders: Chief Art Acevedo of Houston PD and Sheriff Ed Gonzalez of Harris County Sheriff's Office, TX.
Both are principled, empathetic leaders of emergency response organizations, with the best interests of their employees and communities at heart. Both are worth following on Twitter, as they take their role as communicator with the public very seriously. In the long run, I expect some of these emergency measures, including the pre-trial release of many non-violent offenders without bond, to last after the retreat of the virus threat.
Other Relevant News:
Roll Call Media Updates
I'm investing heavily in Roll Call, building the foundation for this to become a valuable platform for public safety professionals and neighbors alike. Here's a couple:
I'm working with a software engineer to build a tool that will continuously collect and parse public safety RFPs from the largest 200 or so agencies in the US. We will then analyze the content of those RFPs to understand what unique needs they are optimizing for, and what the tech/policy implications will be. Trail-blazing agencies and their procurement patterns are extremely important for product/sales leaders and agency/gov leaders to understand. If you know the future that a Houston PD is striving for and how that compares to what a Harris County SO is striving for, you can better aim product development or track agency outcomes to see if they'd work in your own community.

We're close to the paid subscriber count I'm aiming for to launch the Roll Call Community, where we'll have a Slack/Discord channel for anonymized public safety operators, tech/product leaders, and policy makers. The intent is to provide a communication forum that enables people to share provocative and forward-thinking ideas about the future of public safety without participants feeling like they need to defend the entrenched ideas of the groups they are a part of. An ACLU lawyer doesn't need to hold the ACLU line on all topics, and a police lieutenant doesn't need to defend all law enforcement actions. A clear-eyed, truth-seeking, compassionate forum about the future of first responders in the United States.

Beginning to talk with agency leaders about collaborating on modern recruiting projects. Working with some photography and video specialists to create the model for what this looks like. More to come!
---
Thanks for reading. If you enjoy this newsletter, please share it, forward it to your friends, or just sign up here.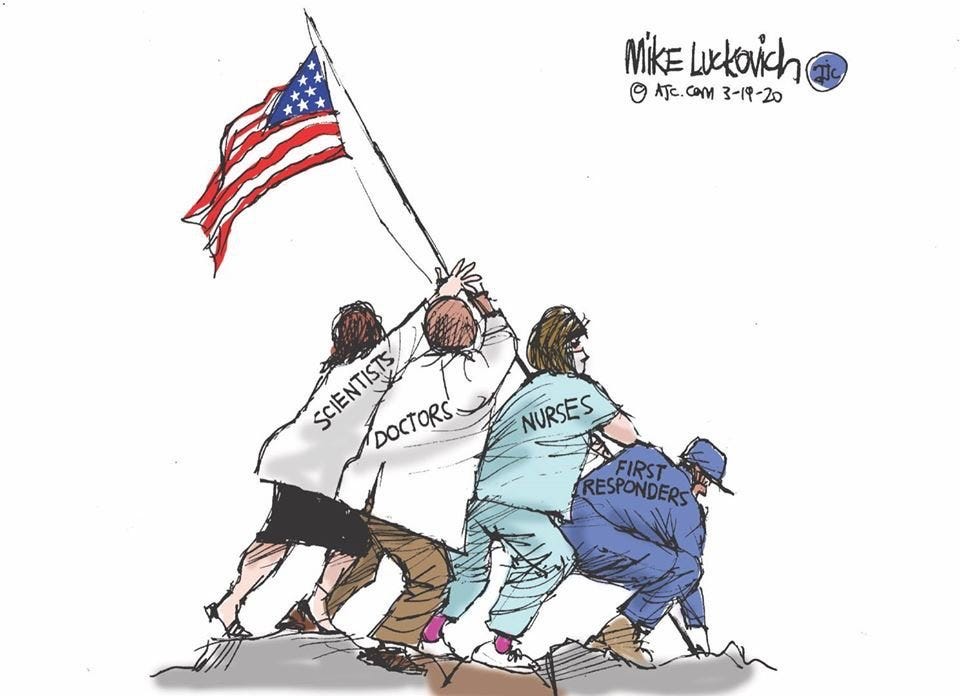 -MA